Reaktionen und Feedbacks unserer Kunden
Nachricht von:

Thomas and Amy H., Maine, USA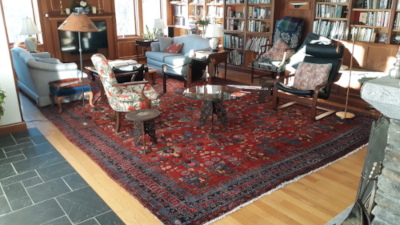 We searched for two years for a large oriental as part of a remodeling project. We found the exact rug we were looking for at rugpeople.com, and Tony was hugely helpful navigating a difficult transaction and securing the rug for us. The rug's a beauty and we couldn't be more happy with it
Nachricht von:

Vanessa and Andrea, Andover, United Kingdom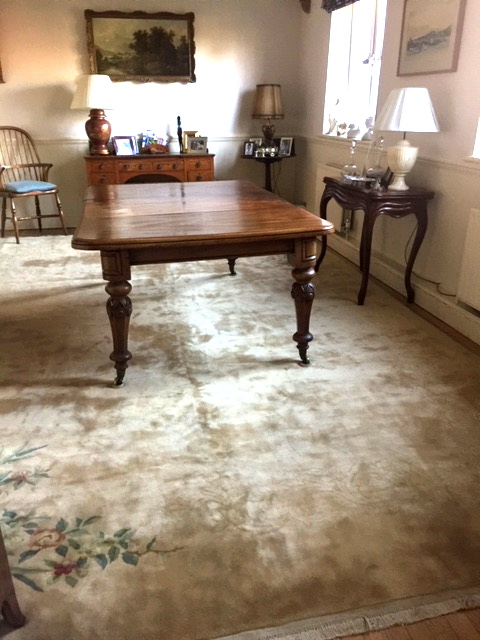 Here are a couple of photos of the rug in situ.......dining chairs are missing to enable a better overall view. Once again we would like to thank you for your service, help and kind attention to ensure our peace of mind in these difficult times..... it has been greatly appreciated. To repeat our conversation of yesterday, we are delighted with our purchase. Sending you Seasonal Greetings and best wishes.
Kindest regards, Vanessa and Andrea.
Nachricht von:

Chris S., Crakehall, United Kingdom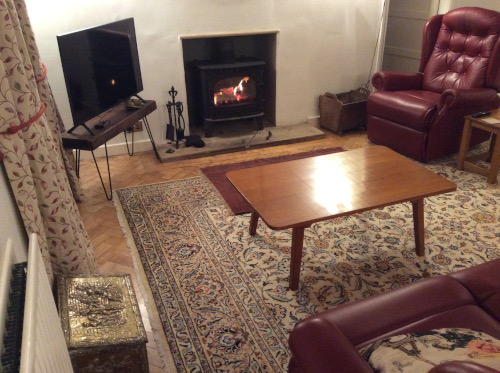 The rug arrived safely yesterday evening. It is sitting nicely in our lounge and looking Beautiful. Thanks for your prompt and efficient service. I will use your services again If I need another rug and will recommend you to my friends. Many thanks, Chris S
Nachricht von:

Marc W., New Jersey, USA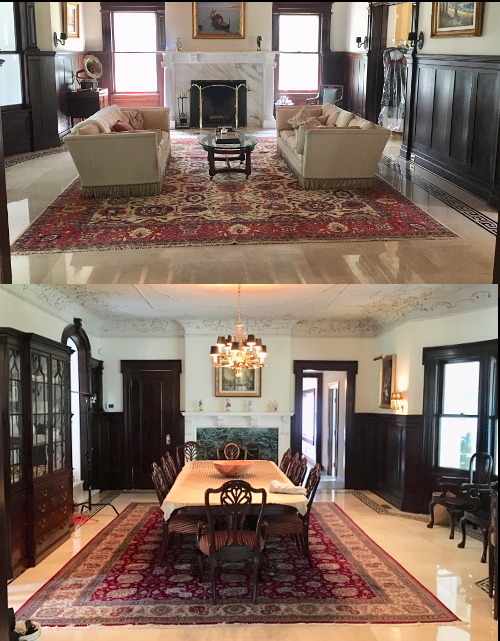 Attached please find pictures of rugs in their new homes. We couldn't be happier! My favorite rug as you know is the silk one but amazingly it didn't look good in the piano room. So we switch things up and put that one in our bedroom where it will be less impacted by foot traffic and it looks amazing against the wood floor. So everything worked out great. Anyway it has been a pleasure working with you!!
Nachricht von:

Marc W., New Jersey, USA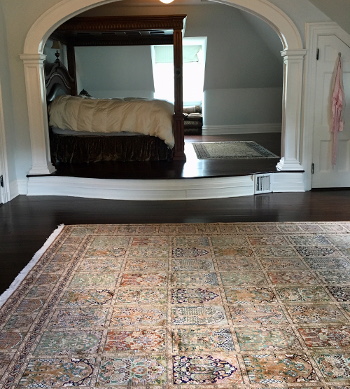 The silk rug arrived today and it is just as beautiful and special as we had hoped. It is a wonderful addition to the space and is very sophisticated without taking away from the other strong elements of the room. We couldn't be happier and video I just took is attached. Lighting isnt very good because there's no light outside!! Now looking forward to the third and final rug!!
Best, marc
Nachricht von:

G. Craig, Bonn, Germany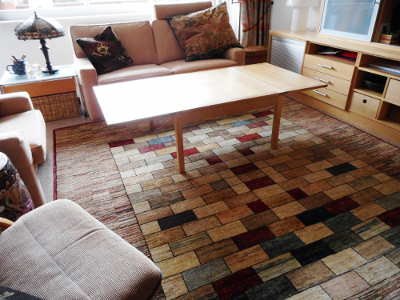 Rug was delivered not long ago, sizing is perfect, color, rustic appeal also (see JPEG) and wool test was OK. Pleased that payment was received, doubts were unfounded - thanks for your patience. Thank you for your friendly approach - it was very much appreciated.
Nachricht von:

M. Rose, United Kingdom

I received the carpet this morning and I LOVE it. It is so well made, in excellent condition, and an absolutely beautiful colour. It looks fantastic in the house.I am really pleased. Many many thanks for your professional and efficient service. I will be back in touch about possible larger carpets shortly after I have spoken to the architects..
Nachricht von:

R. Graf, Spain

Der Teppich ist angekommen und entspricht zu 100% unseren Erwartungen. Vielen Dank für die zügige und professionelle Abwicklung!
Nachricht von:

D. Fox, Virginia, USA

The carpet was delivered early yesterday evening. I opened the shipment and put the carpet in place. I was somewhat rushed because of a need to attend another commitment but my initial reaction was quite pleased. I will have another fully focused look today in the daylight. It's been something of a challenge to get it here and we have both struggled with that. It was worth the wait! Precisely what I was anticipating, looking for, and excited to find. Just thought you'd like to know it's here, I'm happy, and all seems well!
Nachricht von:

M. Sievers., Braunschweig, Deutschland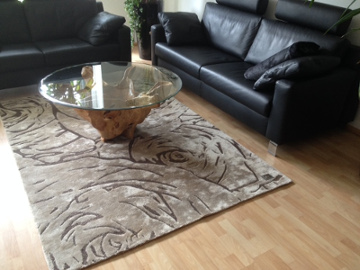 Ein Traum ging in Erfüllung: Schon seit zwei Jahren war ich auf der Suche nach Guy Laroche-Teppichen, doch leider konnte ich sie in Deutschland nirgends bekommen. So führte mich ein Stöbern im Internet schließlich zu teppiche.tv, wo ich mein Anliegen telefonisch schilderte. Keine zwei Tage später erhielt ich die Information, dass es tatsächlich möglich sei, meinen Wunsch zu erfüllen: So bestellte ich gleich zwei Guy-Laroche-Teppiche, um mein Wohn- und Esszimmer harmonisch aufeinander abzustimmen. Während des Bestell-Prozesses wurde ich sowohl telefonisch als auch elektronisch immer auf dem Laufenden gehalten, so dass ich mich gut aufgehoben fühlte. Zwei Wochen später waren sie dann schließlich da: Meine lang ersehnten Teppiche! Sie passen perfekt zu meiner Einrichtung und ich bin happy:-). Ich bedanke mich für den rundum perfekten Service und werde sicherlich bald eine weitere Bestellung platzieren!
Nachricht von:

Martina R., Geisenhausen, Deutschland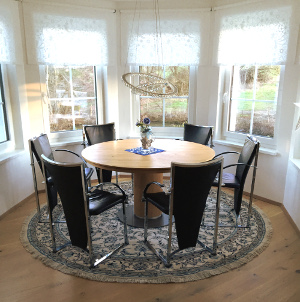 Als das Paket bei uns eintraf, konnte ich kaum glauben dass in der Plastikfolie ein großer Teppich stecken sollte… als wir ihn dann aber ausgebreitet in unserem Esszimmer hatten, waren wir absolut begeistert. Er ist sogar noch schöner als auf den Bildern und passt hervorragend in unserer Wohnung. Vielen Dank. Im Anhang noch ein Foto.
Nachricht von:

Brad T., San Francisco, USA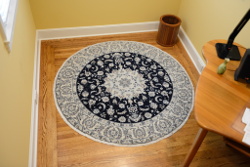 Round rug - we're very happy!

Our local rug dealer evaluated our rug – all is well, we are happy! I don't usually buy this kind of thing on the web, so it is especially satisfying to hear from him: "I will trade this rug for its original value for one of mine," …the final test. A sincere thanks – we are very happy with our new rug!

Brad & Nancy
Nachricht von:

Dr. A. Klein, St. Wendel

Der Teppich ist heute um die Mittagszeit angekommen und gefällt uns sehr gut!!!
Wir danken Ihnen ganz herzlich für die vertrauensvolle Zusammenarbeit. Es hat alles prima geklappt!
Mit den besten Grüßen
Dr. A. Klein
Nachricht von:

A. Westin, Sweden

My wife and i have spent the last hour getting the carpet into place and assessing it, and a quick summery

1) The carpet design and quality (knot count of course but also thickness and length of ply), were as we had hoped for
2) There were no stains as we had feared from a couple of the photos
3) The carpet was in general so clean that my wife who is obsessed with cleanliness so no need to vacuum it. Very impressive
4) The size was good for the space (which you never know until it is in place
5) The one negative was/is that the yellowish tint was a bit stronger than i had hoped for albeit fairly similar to that of the photos. I hope and assume that this will mellow over time and as a function of exposure to sun light

All in all we are please and it has been satisfactory doing business with you.
Nachricht von:

H. Harr, Ubstadt, Deutschland

Der Teppich ist angekommen und gelegt. Wir sind beide sehr zufrieden. In Natur sieht er wesentlich besser aus als auf den Bildern.
Nachricht von:

K. Zlamal, Österreich

Der Teppich ist heute wohlbehalten angekommen und liegt bereits an seinem Bestimmungsort. Er passt perfekt zur Einrichtung und sieht sehr gut aus.

Die Fotos auf Ihrer Internetseite sind hervorragend und farblich gut getroffen. Ich werde Sie gerne weiterempfehlen !

Danke und schöne Grüße aus Österreich.

K. Zlamal

Nachricht von:

Bonnie B., Maryland, USA

Hello, 
Just wanted to let you know we received the rug.  It's BEAUTIFUL!  We are so happy with our purchase. Thank you
Bonnie
Nachricht von:

H. Happle, Zürich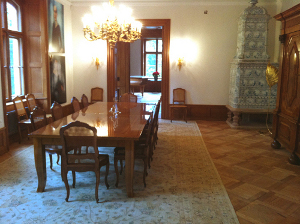 Guten Morgen,
gern vermelde ich die ordnungsgemässe Ankunft. Das Stück passt perfekt.
Vielen Dank für Ihre Hilfe,
mit freundlichen Grüssen
Happle
Nachricht von:

A. Rees, United Kingdom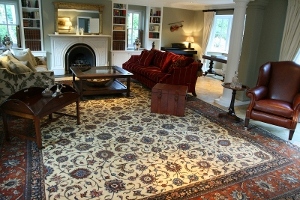 Attached is a picture of the room as promised.

Thank you again and have a good weekend..
Nachricht von:

Sharon Dillon, Ireland

The rug arrived as advised. The delivery went very smoothly and we are absolutely delighted with the rug, particularly the excellent quality. We would be happy to recommend your services to our friends and colleagues. We were delighted with the excellent customer service and communication we received from you throughout the buying process, a truly professional company.

Many thanks,
Sharon
Nachricht von:

R. Moon, London, UK

Just to confirm the carpet has now arrived-it is exactly as required. Thanks for your help.
Best regards
Richard Moon
Nachricht von:

I. Corcoran, Ireland

Have been meaning to write a quick few lines to you for ages to say thank you again for your help with sourcing this rug for me. We are really pleased with it. The colour, quality, size etc - all fits the bill and we are delighted with it so thanks again.

Best regards
Imelda
Nachricht von:

R. Riekkinen, Finland

The carpet was received yesterday. It looks great. Many thanks for your taking care.

There is one thing would like to ask: If you look the carpet you notice that the inner ivory-based rectangle is bordered with blue-all-over-edge into which there is knotted/written something? I have no qualifications to interpret it. In case it is possible for you to find out the contents would be very grateful to have that add info. Believe it is not anything bad as carpet is so beautiful.

Best regards,
Raija Riekkinen
Nachricht von:

T. Tweed, Ohio, USA

Have had the rug for a week now and love it.
Thanks again

Tim Tweed
Nachricht von:

F. Mlinarsky, Massachusetts, USA

The rug came in today. It's absolutely beautiful.

Thank you very much for your help.

Fanny Mlinarsky
www.octoscope.com
Nachricht von:

K. Filling, Luxemburg

Ich habe mich schon seit längerem nach einem Orientteppich umgeschaut, erst in Geschäften die sich in und um Luxemburg herum befinden, und schliesslich auf Internet. Bei Teppiche.tv gefiel mir zum Einen die riesige Auswahl an Teppichen, zum Anderen der perfekte Aufbau der Webseite, die die Suche nach dem passenden Teppich sehr übersichtlich und einfach gestaltet hat. Last but not least fühlte ich mich durch das "Trusted Shops" Zertifikat sicher. Ich bin zwar kein Kenner von Orientteppichen, aber das gründliche Durchforsten der Geschäfte und Internetanbieter hat mir doch gezeigt dass ich bei Teppiche.tv einen ausgesprochen korrekten und interessanten Preis bezahle und die gratis-Lieferung betrachte ich als Bonuspunkt. Als der ausgesuchte Teppich dann zwei Wochen später in meinem Wohnzimmer lag, war ich absolut glücklich. Er entspricht ganz genau der Beschreibung und den Fotos. Ich werde Teppiche.tv ganz bestimmt bei Gelegenheit weiter empfehlen und hoffe auch selbst eines Tages in der Lage zu sein dort noch eine Bestellung zu platzieren. Ach ja, der telefonische- und emai- Kontakt waren sehr angenehm und vervollständigten einen perfekten Service.
Nachricht von:

Y. Unutmaz, Sweden

Many thank's for all you help & it's been a pleasure doing business with you. Take care & be well.

Best Regards, Yuksel
Nachricht von:

P. Sednaoui, Berkshire, UK

Just a note to say how delighted we are with the rug we purchased from oriental-carpets.com it was a pleasure dealing with your firm and you personally.
Nachricht von:

A. Krendelsberger, Österreich

Wir haben soeben den Teppich erhalten und sind sehr zufrieden. Die Abwicklung über Ihre Firma hat 1a funktioniert und das Preis-Leistungsverhältnis ist top. Ich bin wirklich froh darüber, dass ich zufällig beim Internetsurfen auf Ihre Website gestossen bin - hierzu vielleicht ein Hinweis: Wenn man nach Orientteppichen googelt, stösst man auf allerlei "unbrauchbare" Sachen bzw. Händler, leider aber nicht auf oriental-carpets.com.

Abschliessend noch eine Frage: Der Teppich war sehr eng verpackt, sollte ich
diesen daher ein wenig auslüften lassen?

Mit freundlichen Grüssen aus Kärnten

Angelika Krendelsberger
Nachricht von:

M. Campbell, United Kingdom

Just to let you know we are pleased with our purchase. Thanks again for all your help.

Regards,
Madeleyne Campbell
Nachricht von:

J. Myslivcová, Czech Republic

I would like to mention my experience with BEN Trading. The cooperation went very well from the beginning till the end. Mr. Namdar went through the whole process of choosing and purchasing the antique rug and was there for me whenever I needed advice or help. The rug (also for very good price) is at my house and I am very satisfied with it. Jana
Nachricht von:

E. Unruh, Germany

Der Teppich ist bei mir eingetroffen. Ich habe ihn heute ausgepackt und angeschaut. Er entspricht genau meiner Vorstellung.

Leider sind, wahrscheinlich durch den mehrfachen Transport Falten im Teppich. Ich hoffe, dass sich das "ausliegt". Ich werde den Teppich nun behalten.

Mit freundlichen Grüßen

Eckhard Unruh
Nachricht von:

M. Fontana, Germany

Liebe BEN-Trading Company,

ich habe den Teppich mittlerweile erhalten. Er ist wirklich traumhaft schön (genau wie auf den Bildern!). Das Geld müsste mittlerweile auch bei Ihnen auf dem Konto sein!

Nur eine Frage hätte ich noch: was empfehlen Sie mir für die Reinigung? Wo sollte ich den Teppich am besten reinigen lassen, wenn das mal fällig wird? (Jedem möchte ich das gute Stück nicht geben). Gibt es da speziell was für Orientteppiche (vermutlich)? Machen das die normalen Reinigungen?

Viele Grüße aus München
Marion Fontana
Nachricht von:

S. Malik, United Kingdom

Just thought that I would let you know about how pleased we are with the carpet. We have been looking for a 4m x 3m Kashan for some time and found it difficult to find a suitable shop in the South East. I had scoured the internet and found various "shops" but they were not very helpful. Then I discovered your website which was well laid out complete with great photos and pricing. I have to admit to being worried about spending money on something I had not seen in the flesh and so phoned you up for some assistance. From here on in the purchasing was painless. Within a day I had six quality photos delivered to my address which enabled us to make the right decision. Then all it took was another call with my credit card details and the carpet arrived three days later exactly on time. Once the carpet was in place we knew that we had made the right decision. All that was left to do was make another call to Tony to say all was well and that the money could be taken and that was it, done, painless and a perfect result, all without leaving the house!

Kind Regards,
Simon
Nachricht von:

C. Zerhusen, Steinfeld

Als wir im vergangenen Jahr nach einem Übermaß-Teppich suchten, waren wir sehr froh, Ihre Website entdeckt zu haben, da wir hierdurch eine lange und vielleicht auch weniger erfolgreiche Suche vermeiden konnten. Ein Kompliment an den Aufbau der Site: die durch die Suchkriterien vielfältig gestaltbare Recherche führt zu optisch ansprechenden und informativen Ergebnissen. Gerne haben wir den Service einer Auswahlsendung in Anspruch genommen. Als wir kürzlich einen ergänzenden Teppich suchten, hat Herr Pereira uns fachkundig beraten, das passende Stück ausfindig gemacht, den Teppich fotografiert und uns die Fotos innerhalb sehr kurzer Zeit via Internet übermittelt.

Wie danken für die freundliche und fachkundige Beratung und die tadellose Abwicklung!

Herzliche Grüße

C. Zerhusen
Nachricht von:

A. Bullock, United Kingdom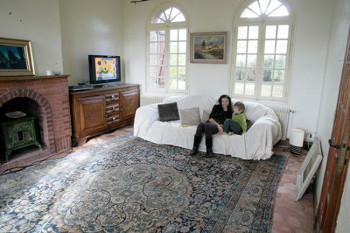 tony,

photo of rug in france as promised.

we love it , it suits the room perfectly, don't you think? beautiful design. and the 'faded glory' look suits our house.

we hope to buy more from you one day!

thanks again for a great service.

andy, beverley and joshua

Nachricht von:

H. von Wittgenstein

Hallo lieber Herr Namdar,

Der S U P E R Nain ist soeben bei uns eingetroffen (er wurde ca. um 17 Uhr Abends geliefert). Andrea und ich sind S U P E R Happy weil es ein wirklich sehr, sehr schöner Nain ist = er ist absolut gerade geknüpft (was ja nicht so oft vorkommt). Die Feinheit ist für diesen Platz wo er liegt absolut OK = es ist ein echter eher feinerer 6-la Nain ! Der Nain hat keine "Fehler" die ich entdecken konnte.

Was soll ich sagen: Andrea und ich sind absolut ZUFRIEDEN ! und super glücklich über diesen Nain. Ich selbst (und natürlich meine Frau) bin mit Ihrer Beratung und Ihrem super Service mehr als zufrieden !!! Das bedeutet das ich Sie natürlich auch weiter empfehle. Noch einmal vielen, vielen, vielen Dank für Ihre Mühe(n) und liebe Grüße an Sie und Ihre Familie.
Nachricht von:

A. Katzas, Lithuania

Gentlemen,
It was a pleasure doing business with you: your service is prompt, quality of carpets is exceptonal, and the price is very fair. I am looking forward to my next purchase from your company. Best regards, Alexander Katzas